AUSTIN — Soul City Corridor in Austin is getting a makeover that will include both streetscape improvements and public art that will reflect Austin's cultural heritage.
The Chicago Avenue Corridor Improvement Plan will renew all aspects of the road from Austin Boulevard to Cicero Avenue, including the streets, bike paths, sidewalks, landscaping and intersections. The specific design improvements will be determined based on feedback from residents, and may include sculptures, tree plantations, curb extensions, pole banners and widened sidewalks.
The initiative is led by the Chicago Department of Transportation as part of the mayor's Invest South/West strategy to drive the economic revitalization of historically divested black and Latino neighborhoods.
The project builds on previous community-led planning efforts such as the Soul City Corridor Development Framework Plan and the Austin Quality of Life Plan. Those previous efforts identified specific needs that residents had asked the city to invest in to make Austin safe, walkable, and economically strong with an aura that reflects the cultural identity of the people who live there.
"We're looking at various gateway and community identifiers…that touch on the nature of this hallway or the theme of the hallway," said Eli Lechter, a designer with the Lamar Johnson Collaborative who is working with the city on the project.
There are currently five sections of the intended corridor, each with a different design, with some segments having wider or narrower streets and different types of pedestrian infrastructure. The redesign will "make it more consistent, but really make it safer to support pedestrians and bicycles, as well as the cars already driving there," Lechter said.
The tightest part of the corridor between Menard and Central will narrow street lanes and parking lots to slow traffic and create more sidewalk space to activate foot traffic, shopping and public space, Lechter said. The wider sidewalks will give businesses more options to host outdoor music and dinner parties, Lechter said.
A section of Chicago Avenue between Leclair and Cicero will have a bicycle path that will be shielded from car traffic by a row of trees to encourage cycling.
Aesthetic improvements to the road have long been anticipated as a way to boost Chicago Avenue's Soul City Corridor rebrand as the center for black culture in Chicago, residents said. The hallway's new look may include themes and colors that highlight the neighborhood's black history, said Corey Dooley, a coordinator for the Austin African American Business Network Association.
"When I go to Chinatown and see that big gate, I know where I am… because of certain design elements. For African American culture, red, black and green are colors that are… tied to a pan-African [identity]' said Dooley.
An Austin-based arts organization, alt_, is working with the city to design gateway sculptures along Chicago Avenue based on feedback from residents during a series of community workshops. Early designs for the project include cultural symbols such as the acacia tree, which is native to the African savanna, said alt_co-founder Jordan Campbell.
"This is one of the trees that produces a lot of seeds. We thought about … how this represents Austin, how this represents the migration of siblings moving to Chicago," Campbell said.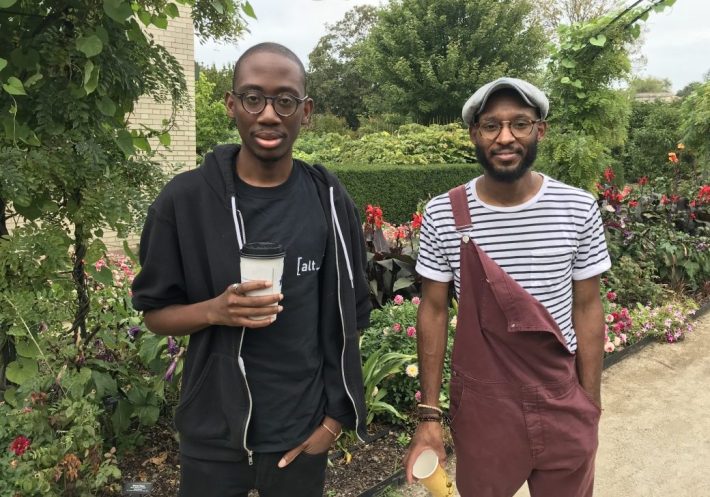 The gates designed by alt_ will also reflect how close-knit people on the West Side owe to the shared history and roots many families in the South have, said co-counder Jon Veal.
"Our business is so connected. And so we think about our family tree, like how we're all connected within this family tree," Veal said.
The West Side became home to many black families who fled the South during the Jim Crow era during the Great Migration, and residents want that history incorporated into the redesign.
"My parents were also born and raised in the West Side. That reminds me of the Great Migration and the footprint the West Side served to the city of Chicago. I think that's a huge part of the history and story of the West Side," resident Jackie Williams said.
The public art will also reference the Ojibwe, Odawa, Potawatomi and Miami peoples who were indigenous to the country before it was colonized, Campbell said.
"Often there is a huge erasure of these kinds of histories. And we want those things to really be at the forefront," Campbell said. "We're looking at how we can create something that takes advantage of the past, but also leans toward the future."
Residents also asked the artists to create visual references to West African music and the West Side's contributions to Chicago's music history. Sidewalk bowls can be designed to resemble African drums, such as the djembe, said Malcolm Crawford, executive director of the Austin African American Business Network Association.
The gates and street banners could also honor music and dance subcultures such as the Chicago blues, stepping, bopping and hip-hop. Rap artists like Twista and Da Brat hail from the West Side, and their legacy may be a reminder that Austin residents can aspire to greatness, said Keli Stewart, founder of the Front Porch Art Center.
"West Side culture has really evolved and added to rap culture and hip-hop," Stewart said. "It would be great to call out the greats from this space who really need to be celebrated."
Subscribe to Block Club Chicago, an independent, 501(c)(3), journalist-run newsroom. We earn every dime by reporting from Chicago's neighborhoods.
Already subscribed? Click here to support Block Club with a donation is tax deductible.