Encircle founder and CEO Stephenie Larsen speaks during a press conference on Wednesday at the Silicon Slopes Summit at the Salt Palace in Salt Lake City. (Deseret news)
Estimated reading time: 4-5 minutes
SALT LAKE CITY — An unexpected team of prominent figures in technology, music, sports and politics came together to raise $8 million in eight months to support LGBTQ youth, and now they're doing it again.
In February, Apple CEO Tim Cook, Imagine Dragons singer Dan Reynolds and Jazz owner Ryan Smith appeared on Good Morning America and announced they were raising $8 million to build eight new homes for Encircle, a Utah-based non-profit. for-profit organization that provides safe spaces and mental health care for LGBTQ youth. They met and exceeded their goal, and with the sponsorship of the Kahlert Foundation, they will build a ninth Encircle home in the southern end of Salt Lake County.
The team, along with former NBA player Dwayne Wade; Domo founder Josh James and his wife Rayna; Heather Kahlert of the Kahlert Foundation; as well as Utah Gov. Spencer Cox and his wife, Abby, announced a new goal to raise $13 million to support the 13 Encircle homes over the next several years during a press conference at the Silicon Slopes Summit Wednesday.
"We know it's a huge demand. We also know that these mental health services keep kids alive," said Encircle founder Stephenie Larsen.
Encircle's goal is to "bring family and community together to help LGBT youth thrive," she explained. And gathering leaders from so many areas shows those young people that they are supported, she added.
Cook said achieving that goal and starting a new campaign was "another milestone" and "(it) represents another big step forward."
Apple's CEO came out as gay in a 2014 editorial for Bloomberg Business, saying, "I'm proud to be gay and I consider being gay one of the greatest gifts God has given me."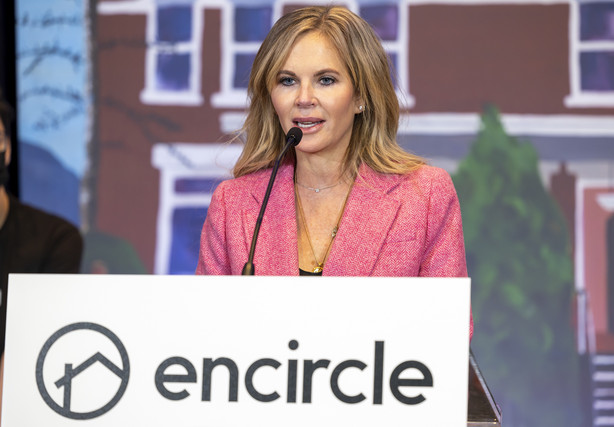 Through his personal experience, Cook says he sees himself in many gay youth and knows what it's like to be isolated and lonely.
"It's not easy when you feel different because of who you are," he said. "Slow, too slow, we've seen that start to change, especially through Encircle's inspiring efforts."
Smith pointed out that Encircle didn't just happen in Utah. Utah was a place that needed it and the people had to support it, he said.
The nonprofit currently has homes in Utah, Idaho, Arizona and Nevada, but Smith said "every city in the United States needs an Encircle."
Wade, also a co-owner of the Utah Jazz, visited the Salt Lake Encircle home before Wednesday's press conference and invited everyone to come inside and watch the vision. He explained that he was there as a representative of the Jazz, but he was also there as a parent.
Wade's daughter Zaya is transgender, and when she spoke to her parents about it when she was 8 years old, her parents wanted her to live as she is; but they also "had to learn a lot and listen a lot," Wade said.
"We live in a world where everyone is different and we all have the same goal of being the best version of ourselves," he continued.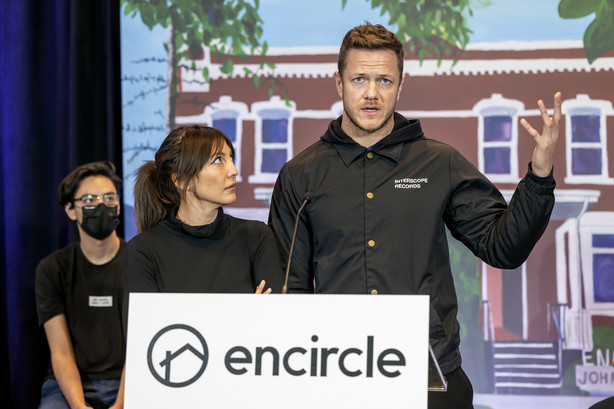 Reynolds told reporters that his wife, Aja Volkman, the lead singer of Nico Vega, was a big part of opening his eyes to LGBTQ issues.
"It's very easy for straight, white, straight men to skate through life and not have difficult conversations," he said. "The strange thing is, it's such a simple concept that we're all fighting for. Our kids are born knowing they know this."
Volkman encouraged LGBTQ youth to be who they are, because the world needs 'your wholeness of yourself'.
"We need evolution," she said. "We have to grow because of this."
Larsen was elated when she first saw billboards from tech company Domo in one of Utah's most conservative counties that read, "Domo loves LGBTQ+ (and everyone else too!)."
The billboards provoked strong reactions from the community – both negative and positive.
"I've experienced firsthand what a polarizing issue this topic is," says Domo founder Josh James.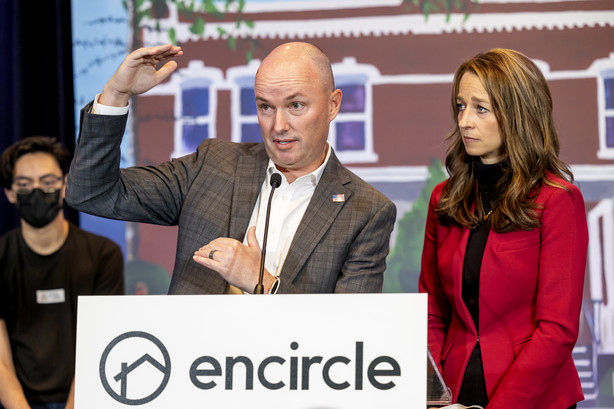 Even people within his own community and company "came in" ready to criticize the billboards, James said; but when he didn't participate, they eventually came to the conclusion that it makes sense to spread love among vulnerable young people. Josh and Rayna James donated $1 million to Encircle's February campaign.
Gov. Spencer and Abby Cox also spoke about how children are born with the inherent ability to love people. They raised their children in a rural, conservative community; however, their children still learned this and took their LGBTQ friends home with them. One day Cox came home to a house full of kids and Abby said, "I think we have all the colors of the rainbow in that room."
"It was a great feeling to see how those kids interact with each other," Cox said, citing data showing that even one person accepting someone coming out dramatically lowers the suicide rate among LGBTQ youth.
And Encircle provides that kind of support, he added.
"(Encircle) is Utah's best," he said.
×
photos
More stories you might be interested in
.