There is a group of hockey gents at lunchtime who play every Friday at the Sno-King Ice Arena in Snoqualmie. After each skating, the guys have a few beers at a nearby brewery, including defender Daniel Cautrell. He is also an artist and was commissioned to create a trophy for the inaugural adult hockey weekend of the Pacific Northwest Draft. In mid-April, players from 17 states and provinces traveled to Tacoma Twin Rinks to compete for the Timothy J. Oshie Memorial Trophy.
#TBT …@DanCautrell I believe it … @LaLunaBBQ it is his house
…and @ TeamShie77 Along with his siblings they named it the Timothy J. Oshie Memorial Trophy in honor of their community-minded father for the PNW Draft Adult Hockey Weekend winners each April! #CoachCup pic.twitter.com/SEWLztfbPc

– Jonathan West (JW) (@JonathanSWest) October 7, 2021
Dan Cautrell Art & Design has been operating out of his Woodinville barn studio since 1998. And now he's finishing a second trophy for the Seattle Inaugural Draft this weekend at Highland Ice Arena. I sat down with him for one of those post-hockey beers to meet the Pacific Northwest's newest hockey artist.
JW: I see you're wearing a Los Angeles Kings jersey, so where are you from?
DC: I'm from the Long Beach / LA area. I still surf there so I lean towards Orange County, Newport Beach, and Laguna. I started skating and playing roller hockey when I was a kid. In high school, he had friends from Minnesota, and then the Kings settled in around that time. We started going to hockey games with his parents every time the North Stars came to play in Los Angeles. Once you start going to a couple of games, I was like wow! This is great. There was a local ice skating rink near my town, so I went to the midnight pickup games to learn.
JW: And what made you move here?
DC: Southern California was pretty nice. But then after marriage, we had kids and we needed more property and a bigger house, that kind of thing. So we moved to Riverside, but my wife didn't like the Inland Empire. We still live there for 10 years. Her brother moved here for work and we visited him in the summer as she was a school teacher. He said he would love to live here so we thought he might get a job. We go ahead, raise stakes and move here. Sure enough, he immediately got a job at an elementary school.
JW: Have you created art your whole life?
DC: No, for about 35 years. Yes, I actually learned it after graduating from high school and entering college when you start exploring different things.
JW: How would you describe your art? Seeing the trophy, you went for the Pacific Northwest Draft and other pieces, I'd say "grizzly."
DC: Okay, you know what? I'm going to change from grayish to primitive. There is a primitive quality to my work. I don't like anything too tight, and I don't like my artwork either. There are no very narrow lines, something earthly. Free flow is a good way to put it. But yes, there is a primitive rustic quality to all my work. Definitely in my wood carvings.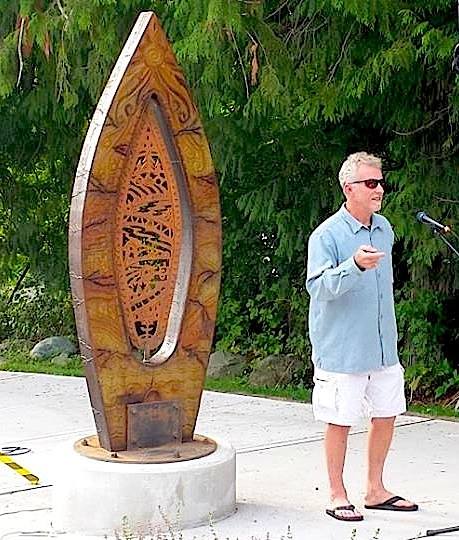 JW: When you were asked to make this trophy, did you think it was okay in your wheelhouse?
DC: Absolutely. Oh yeah! I haven't done much related to the art of hockey. I've always kept the two apart. But every once in a while, an opportunity like this trophy arises. A guy named Bruce Clark started this old man's tournament in Winthrop. And he needed a design for his FOG Tournament, which means fucking old. Haha. I did the image and he put it on the t-shirts and sweatshirts.
JW: That's a great hockey story. How long was that?
DC: Probably three years ago. Then, with this trophy, there was another opportunity to create a presence in Seattle's hockey culture. You know, just having that out there. What if he also hangs out at a hockey bar all year long? That is so amazing.
JW: Well, the trophy is at home at Big T's Moonshine BBQ, and you play hockey at Lynnwood, so you have to go see it! Besides the winning team each year, you are one of the few people who can take it off the shelf and use it.
DC: Oh, I really enjoyed doing it. I wanted to get involved in hockey culture and that was a great way to start. So yeah that's why I added a real puck to add a little hockey reference directly.
JW: Were you surprised when it was mentioned that the record was like the "Black Hole Sun" referenced in the Soundgarden song?
DC: Oh yeah! I went and listened to the song after hearing that. A brave song to match the rustic quality of the trophy. Yes, that works perfectly and is a pretty impressive reference.
JW: What is your favorite part of the trophy?
DC: Oh, it must be the tentacles. That was a serious cut. But I had to include them for the new Seattle NHL team! I will always be a fan of the Kings, but now I am totally Kraken. I used to watch the Kings grow up with Marcel Dionne, Rogie Vachon and all those guys. I still like to see them, but now I have a team that represents my region! I'm bleeding that way for sure. I was excited about the player announcements and the hiring of coaches and I look forward to seeing how the games play out in the new arena. I'm looking forward to all of those things.
JW: Any other great projects or pieces you have recently done in the community?
DC: Well, I just created some carved cedar panels for a Duvall City public art project. They are basically 18 foot panels that hang from the street poles along Main Street. It was me and three or four other artists included in the project. The city just had an arts event featuring the panels on September 25th.
Also, there was a September 11th keepsake piece. There is someone in my community who knew people who died in the tragedy. And they are involved with a group for families and survivors of 9/11. Every year we have been helping with the fundraiser and I pledged to donate an artwork for the fundraising effort. Well, for the 20th anniversary of this year, someone approached me to do a piece of art that was going to appear in much of the publicity. That was a tight deadline but a very special one to be a part of.
JW: What would it mean if the new Climate Pledge Arena or the Seattle Kraken asked you to believe something?
DC: Oh yeah, that would be great! Like a large mural? Those and carved wood are my specialties. I'm used to flat surfaces, which is why the trophy was so unusual for me to get into something like this in 3D.
JW: Any hints as he's finishing up the inaugural Seattle Draft trophy?
DC: Sorry, don't peek! But it will be completely different from the previous one. An iron motif with another nod to the Seattle Kraken.
Daniel Cautrell's new hockey trophy can be seen this Saturday and throughout the year at Queen Anne Beer Hall. Technically, fans can see it at any time when it is not awarded to the Seattle Draft champions. It will be 3pm this Sunday at Highland Ice Arena. ⚓