living in a sculptural dome house
despite its location on Kennebunkport's "road to misery," this rustic dome home promises a quiet, rustic coastal Maine lifestyle. the architectural oddity was hand-built in 2003 by sculptor daphne pulsifer as an eco-harbour, beautiful and sustainable at the same time. in fact, the solar-powered home can perform completely off-grid.
By hybridizing the quintessential New England cottage with an earthen monolith, the home celebrates both a pastoral vibe and a forward-looking turn toward more sustainable living. now it's listed for $690,000, along with its sprawling 43-acre estate of tranquil New England woods and meadows.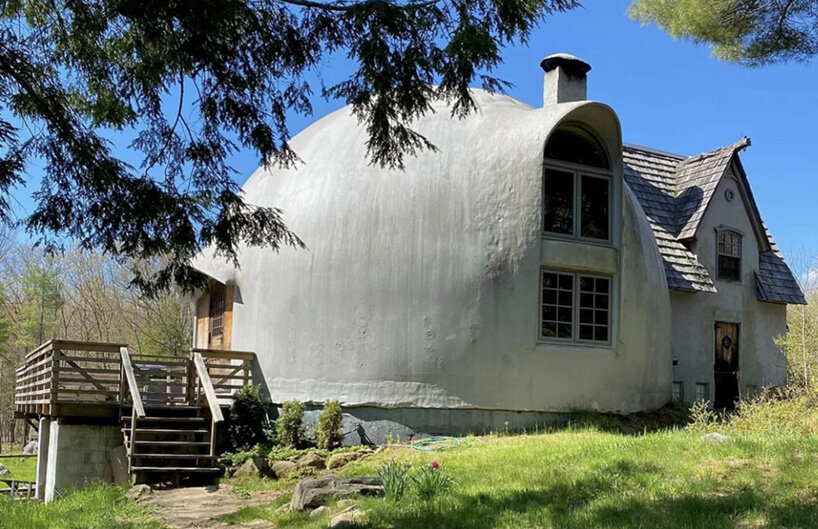 images courtesy of coldwell banker realty
a secluded, off-grid home in Maine
nestled in pristine Maine countryside, the dome home blends traditional construction techniques with modern technology. it is powered by a solar photovoltaic electrical system, with an additional gas boiler. water is collected from a nearby well on the property. while the off-grid home is in a secluded location, it's just four miles from a public beach and a 15-minute drive from the quaint coastal town of Kennebunkport.
otherwise, in its idyllic woodland clearing, the house is a serene retreat and is often surrounded by an abundance of wildlife, including various species of birds and deer.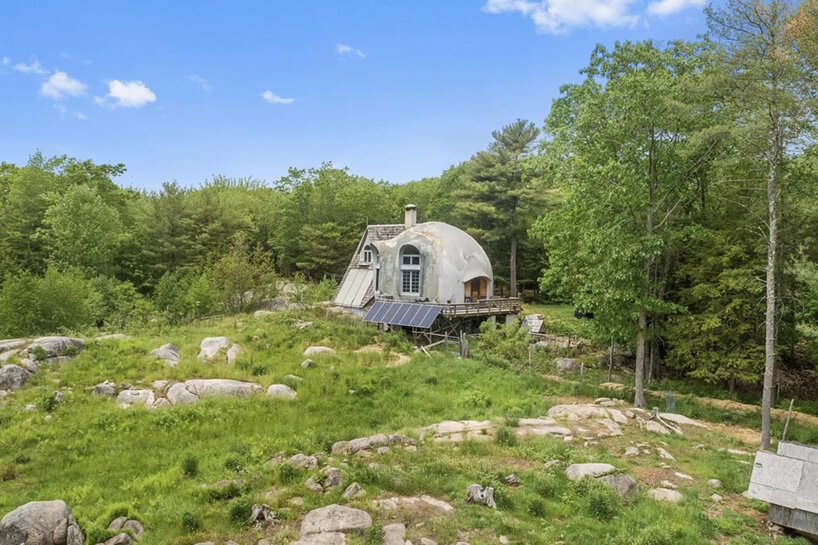 the handmade interiors
from the outside, the monolithic domed house may seem closed off and foreboding. however, inside the space is warm, welcoming and filled with light with high ceilings. the heavy dome opens wide with wide, paneled windows to reconnect it with its rural heritage, while the organic white finish is balanced by warm tile floors and handcrafted woodwork. an exposed timber structure was built on site from trees and includes beams, a staircase and a large entrance.
the builders – sculptor daphne pulsifer (see more here) and her partner daniel bates – first started the project as a family business. Once the house started to take shape and it was time to install plumbing and electrical systems, the couple took the advice of the monolithic dome institute in Italy, Texas (see more here).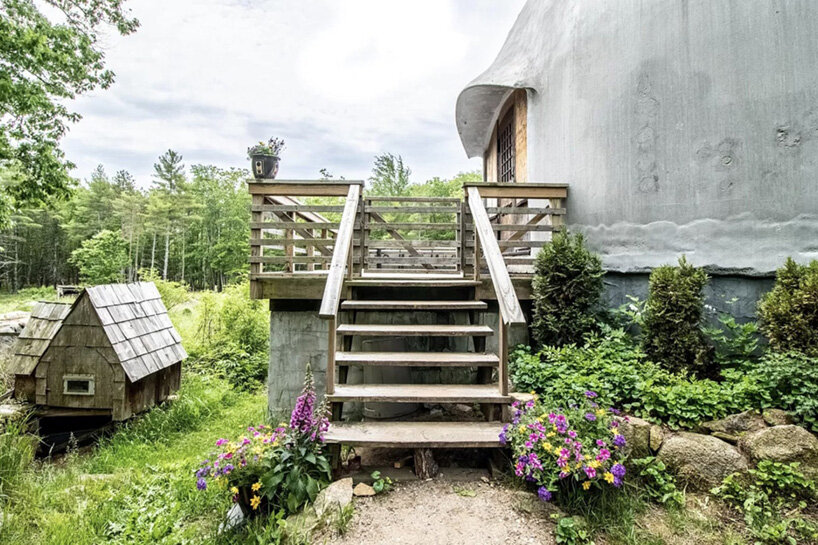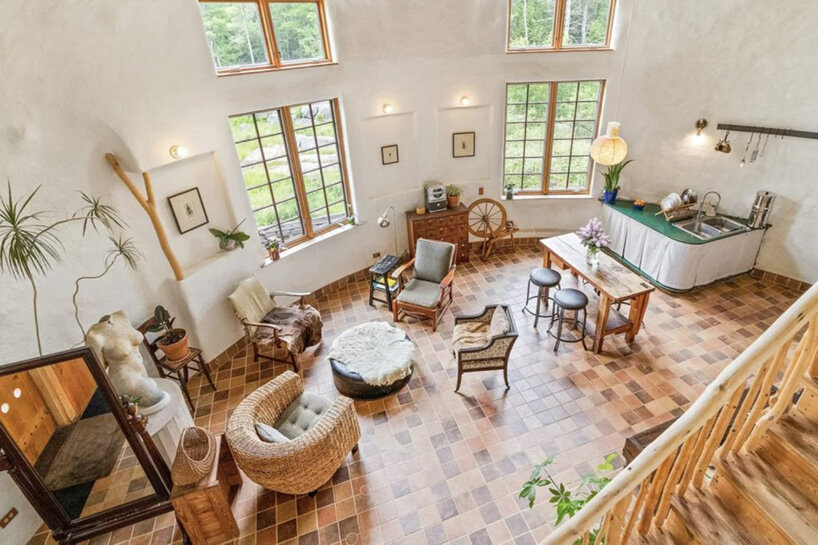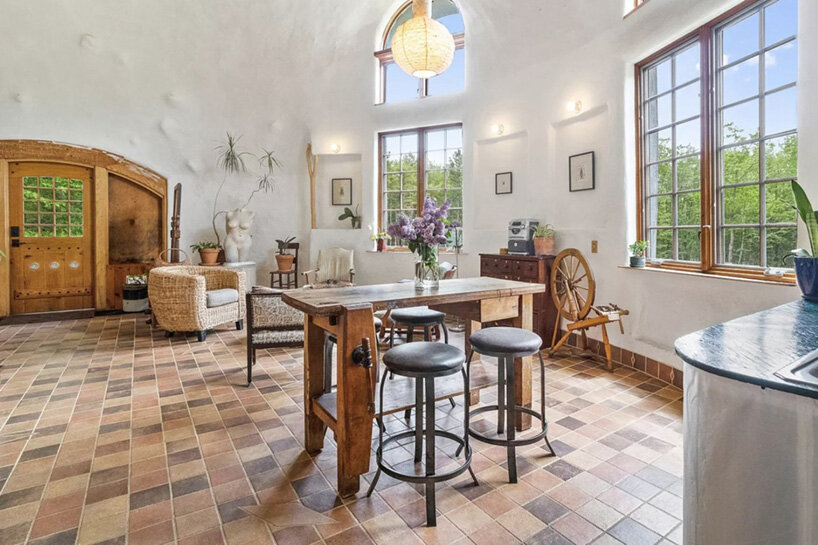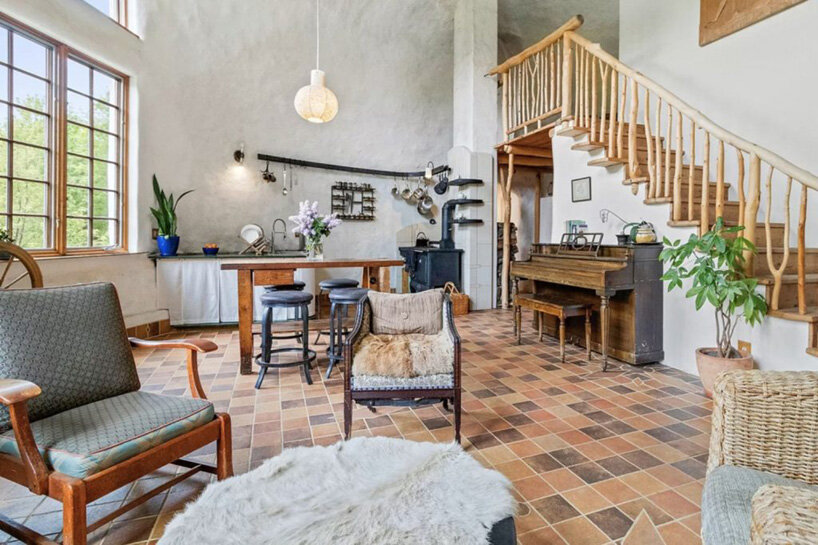 project info:
Builders: daphne pulsifer, daniel bates
Place: 34 road to misery, kennebunkport, maine
photography: courtesy of coldwell banker realty
find the list here