By the time the portal's recruiting season slowed into the summer, Mark Turgeon was exhausted.
"I'm not going to lie to you, the August 1 hit, I was done. It was, with the COVID, the season, we weren't that good, we lost more games and we lose normally and you know, we had to fight because the competition was so good. And then guys leave because they can make more money elsewhere, which shouldn't be the way in Maryland, but it was. The Maryland basketball coach said in an interview on 105.7 the Fan's Vinny and Haynie Show.
"You know, it's been exhausting, exhausting 14 months wherever it has been, from when we won the Big 10 to August. And so I took a few weeks to kick back and relax. And, not so young like I was before, and I got kind of new motivation to go. But now it all comes together. The chemistry, the synergy with our team is really good and our employees, I'm really very happy. We all love our team right now… We've been doing this long enough to know we've got a good business here as long as we keep making our boys better."
The Terps should be a top 25 team entering Turgeon's 11th year at College Park. He hasn't talked to his team about goals for this season yet, but it's clear he sees it as a high-ceilinged group.
"We're Really Not There" [to discussing goals] yet. We had a recruit in town the other day and he was watching practice, and he walked up to me like, 'Oh, coach, this is great.' I said, 'Well, that's what a top 10 or 15 team in the country looks like to me. Just the way they practice, just the way they approach things. And I told the team that, so they were — our expectations are pretty high. You know, as a group we have some seniors, guys who are already here, guys who will only be here for another year. So our expectations are high."
With Aaron Wiggins gone, Maryland needs a consistent Donta Scott this season. The 6-6 junior is on the NBA radar after leading the team in 3-point shooting and showing off his booming versatility last season.
"Donta is a man who was when he first came here, he was… [at his best] one in four days. Last year it was every other day. You know, and I'm like, you can't be a man every day if you want to be the best player on the team. So he worked really hard. He's been good, he's been a lot more consistent for us," Turgeon said.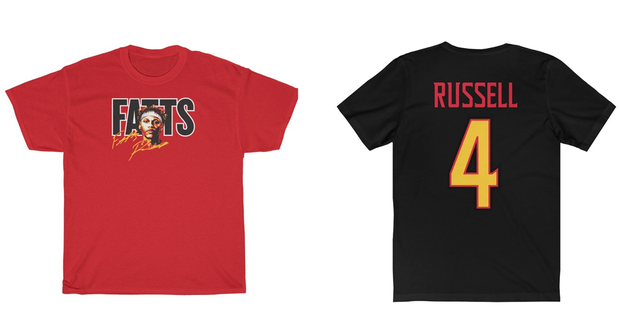 After going without an actual center last year, the Terps have the definition of one on their roster, Georgetown transfer Qudus Wahab.
"Wahab, a great low-post player where he's working hard and you know, we're asking him to do things he's never been asked to do, and stretch his game a little defensively."
The second-biggest name transfer is Fatts Russell, who is expected to start on the point and last season's top scorer Eric Ayala to play the two.
"Fatts is as fast as anyone I've coached and Anthony Cowan was pretty fast. So I'm not comparing him to Anthony, that's not fair to Fatts. But Fatts is a really good player who has gotten better. He's starting to get used to the size of our league and our team and all those things. So he's gotten better."
Then there's a sleeper who came out of Old Dominion as a graduate.
"We signed Xavier Green, who doesn't sleep on him either. He's a great player that we got in August," he said.
His biggest concern?
"How quickly will my players adapt? Because we're going to play a lot of big games and you know, our non-conference schedule will help us prepare for that, but how quickly do they adapt because we're used to We're used to winning big games here and that's my only concern, but we expect to be really good and we expect to play in March and see what happens," Turgeon said.
"But we're a long way from where we'll be, that's a good thing. It's really going to come together and knock on wood, we've got a lot of depth. You always do that at this time of year. I always say that this is probably my deepest team It's not my most talented team but it's probably my deepest team since our 28 win team with Dez Wells and Melo… That was a deep team but this team might even be a bit deeper than That."
Read on below for more from Turgeon on his freshman year, the staff overhaul, another transfer that's going to play a big part and more…