BYU security guard Alex Barcello, left, shoots next to Oregon forward Quincy Guerrier during the second half of an NCAA college basketball game in Portland, Oregon, Tuesday, Nov. 16, 2021. (Craig Mitchelldyer, Associated Press)
Estimated reading time: 4-5 minutes
PROVO – Alex Barcello showed BYU fans exactly why he came back for his second senior season.
Oregon Duck supporters too.
Barcello threw 25 points on 9-of-11 shooting, and BYU shot 60% of the field in the breakdown of No. 12 Oregon 81-49 Tuesday night at the Moda Center in Portland, Oregon.
And the first thing he wanted to talk about was his teammates.
Like Te'Jon Lucas, who had 12 points and three assists, or Fousseyni Traore, who added 10 points, six rebounds and two blocks from the bench as the Cougars (3-0) became the first non-ranked team to win from a top 15 opponent away from home by more than 30 points since UConn's win over Virginia on Nov. 29, 1993, according to ESPN Stats and Information.
Then there was Spencer Johnson, who had 10 points, three rebounds and three assists; Seneca Knight, who had 9 points, six rebounds and three assists; and Gavin Baxter, who had emotional 7 points, five rebounds and two blocked shots in his best game of a season, just two years away from devastating shoulder and knee injuries that cost him most of the past two years.
"I think it starts with my teammates," said Barcello, still soaked from a post-game rainstorm where his teammates threw water over Coach Mark Pope and his $100 suit. "We have a lot of guys who can create; it helps us divide the floor really well. I have to give credit to all my guys – it's so much fun playing with them all."
BYU 54 –ORE 36 | 11:41 2H@AlexBarcello23 with 20 points to lead all scorers!! pic.twitter.com/FyUysv6aAX

— BYU Men's Basketball (@BYUMBB) November 17, 2021
But Tuesday night was about Barcello – from a magical start to an even better finish, one where the 6-foot-2 point guard didn't play a second of the final 2:50 of the game.
With an ESPN platform that showcased two of the best teams in America, Barcello and Co. at halftime a laugh from an Associated Press Top 25 adjacent match – the Cougars got 26 votes in Monday's poll.
It didn't end with Barcello. But it started with the sixth-year senior back for one last time as a COVID-19 senior — one last chance to give back to a team that took him in as a "broken" transfer from Arizona and turned him into an AP All-America honorable entry a year ago in the Cougars' first NCAA Tournament appearance in five years.
"There are just no words left for this man," Pope said. "I know the country hasn't seen him; I don't understand exactly why. But this is Alex Barcello, this is what he does.
"He's not just 9-for-11, but he's doing it 100% in the context of how we play. He doesn't break things down, go into isolation, force shots. He's just become a master at what we do. "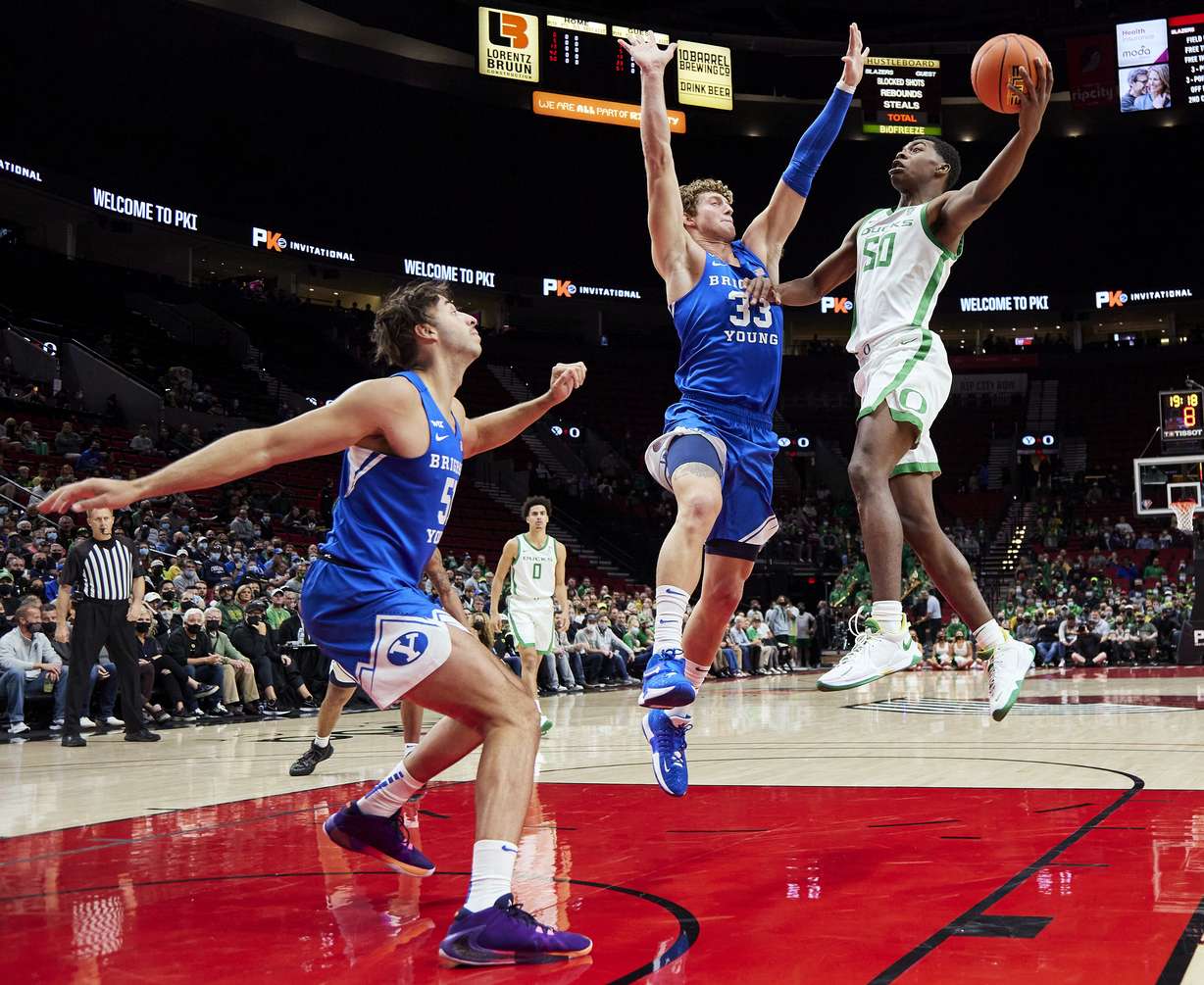 Barcello made his first eight shots off the field, including three three-pointers, nearly beating the Ducks by 20 points to take a 52-28 lead midway through the second half. The Chandler, Arizona native only missed a tricky three-point attempt at 13:35 when the Cougars led 24.
Two seconds later he was knocked out, but it barely cooled him.
And when he was, his teammates took over. That, and a little defense.
Whether it was Traore and Baxter dominating the paint, beating the Ducks in 42-28 or Johnson and Knight leading a bench crowd that rolled to a 33-6 lead, BYU fired all cylinders.
Eric Williams Jr. had a 12-point lead over Oregon (2-1), which shot just 32% of the field and just 3 out of 14 out of a 3-point range in their worst loss as a ranked team in program history — a feat head coach Dana Altman said made him "completely ashamed".
"They made us stronger, they prepared us better," he said. "They got what they wanted."
As much as Pope is eager to take credit for what happened Tuesday night at the Phil Knight Invitational — and he earns a lot of it — when he quickly brought the game back to his players. Barcello, Lucas, Traore, Baxter, Johnson, Knight – to Gideon George, the Cougars' defensive wing, who had four rebounds, two assists and one clunky dunk from Johnson in the second half as the Ducks tried to get back into it.
However, they couldn't; Oregon never led in a game where the BYU had a 37:50 lead and led by a whopping 33 points.
BYU moved up 19 places in KenPom's latest rankings with Tuesday night's win. A berth in the AP Top 25 will certainly follow.
The only question is how high the Cougars will rank on their first entry next Monday.
The third year of the Mark Pope era is off to a flying start.
Spencer Johnson with a sweet dish to put the dunk on @BYUMBB 👀 pic.twitter.com/k1nSJ2htk8

— NCAA March Madness (@marchmadness) November 17, 2021
Or maybe it's the Alex Barcello era.
"I'm saying all that, and it's just Alex Barcello and Te'Jon Lucas," Pope said after a long discussion of stats, tactics and schedules. "I have such a talented rearguard now. Te'Jon Lucas is now talking about making a movie.
"Te'Jon has the poise and experience of an experienced man, and then Alex did what he did. Really, there's not much coaching. We just have an incredible rear."
BYU returns home this weekend to host Central Methodist, a NAIA school from Fayette, Missouri. Tipoff for Saturday's game is scheduled for 7pm MT on BYUtv.
×
photos
Related Links
More stories you might be interested in
.