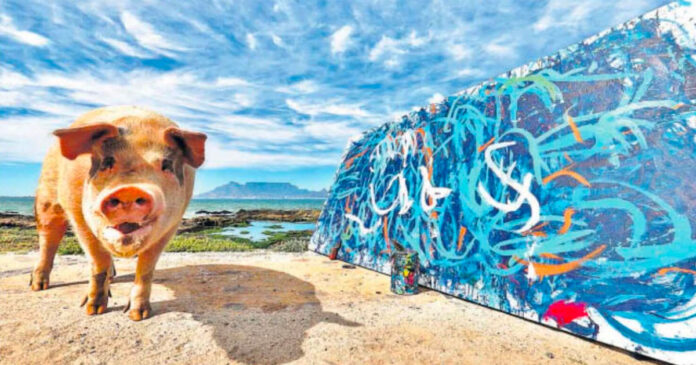 Pigcasso, the abstract expressionist painter and rescued pig from South Africa, has made headlines abroad with the announcement this week that one of her paintings has sold for an incredible £20,000.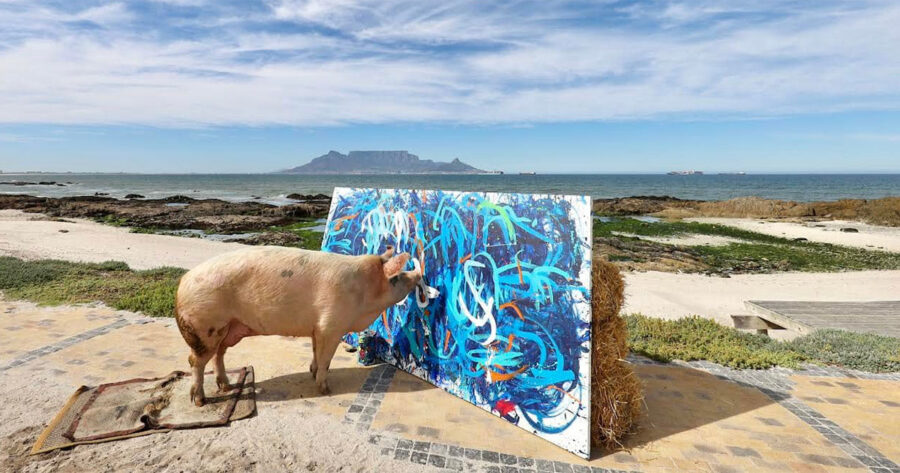 Pigcasso's page said on Wednesday: "WILD AND FREE (Pigcasso 2021) MAKES HISTORY! The magnificent masterpiece that led to a worldwide record has sold to a German investor. Stay tuned for more news on this landmark moment as we take a breath to recognize this record-breaking, incredible creative artist; the one and only Pigcasso!"
Wild and Free is just one of 400 paintings Pigcasso has created since Joanne Lefson rescued her five years ago. The £20,000 price tag breaks the previous record of £14,400 for animal painting set by a chimpanzee 'artist' in 2005.
As Pigcasso's Facebook page puts it, "Who would have thought that a pig rescued from slaughter in 2016 would rise up and inspire a massive awakening among farm animals, what we eat – and its direct, devastating effects on life? and the welfare of animals and the environment. Less meat. More art. Grumpy Pigcasso!"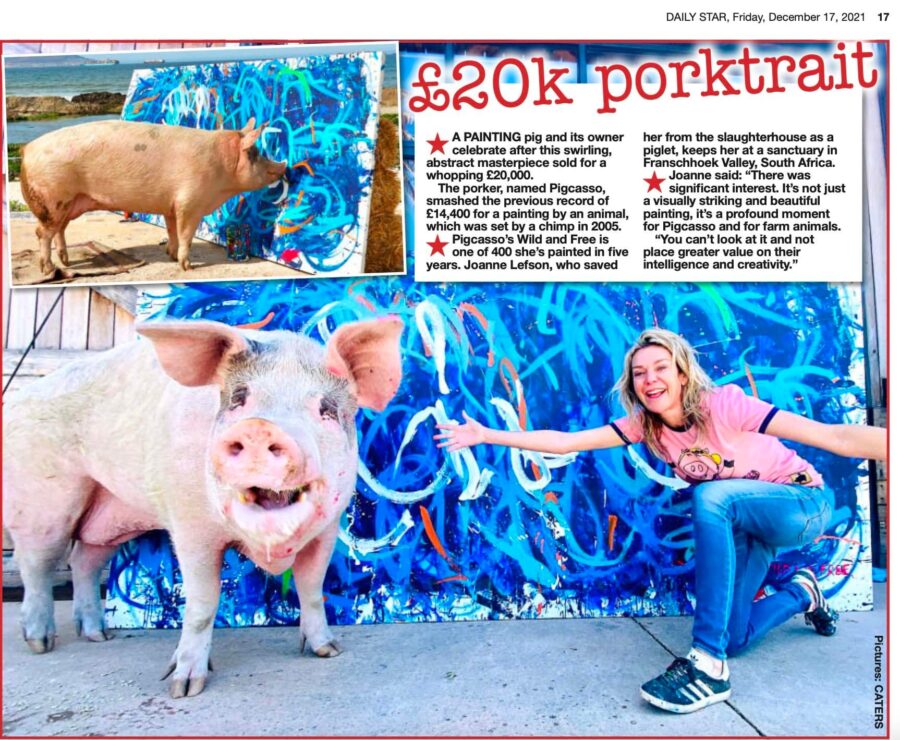 The sow was rescued from a slaughterhouse as a piglet and taken to Joanne's animal shelter – Farm Sanctuary SA – in Franschhoek. in an interview with Joanne and Pigcasso in 2019, Joanne said: "Pigs are very smart animals and so when I brought Pigcasso here to the barn I thought how can I keep her entertained? We threw in some footballs, rugby balls and of course there were some brushes because the shed was newly built… She basically ate or destroyed everything but these brushes… she loved them so much," Lefson added.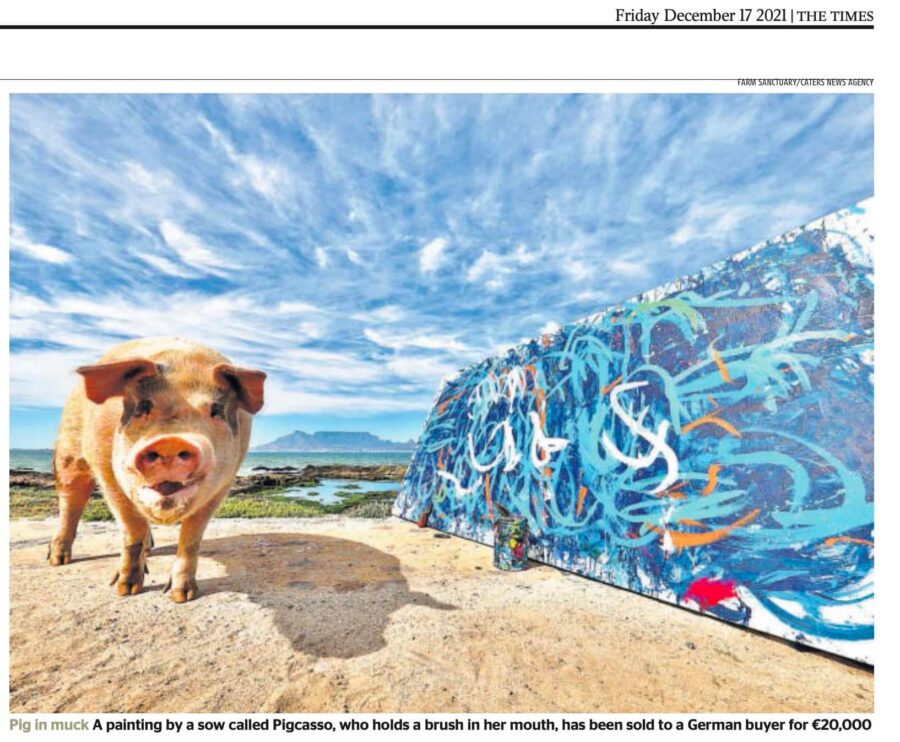 Soon the pig dipped the brushes into pots of paint and made her mark. Her paintings are sold for thousands and the proceeds go to animal welfare. She even had one of her artworks turned into a dial for Swiss watchmaker Swatch. It's called 'Mrs Pigcasso's Flying Pig'.
Congratulations from art and animal lovers pour in for Pigcasso; although some fans were outraged by some British headlines that in an attempt to humorously play on words like 'pork', with The Sun even using bacon to spell the world 'ham', comparing Pigcasso to Vincent van (ham) Gogh .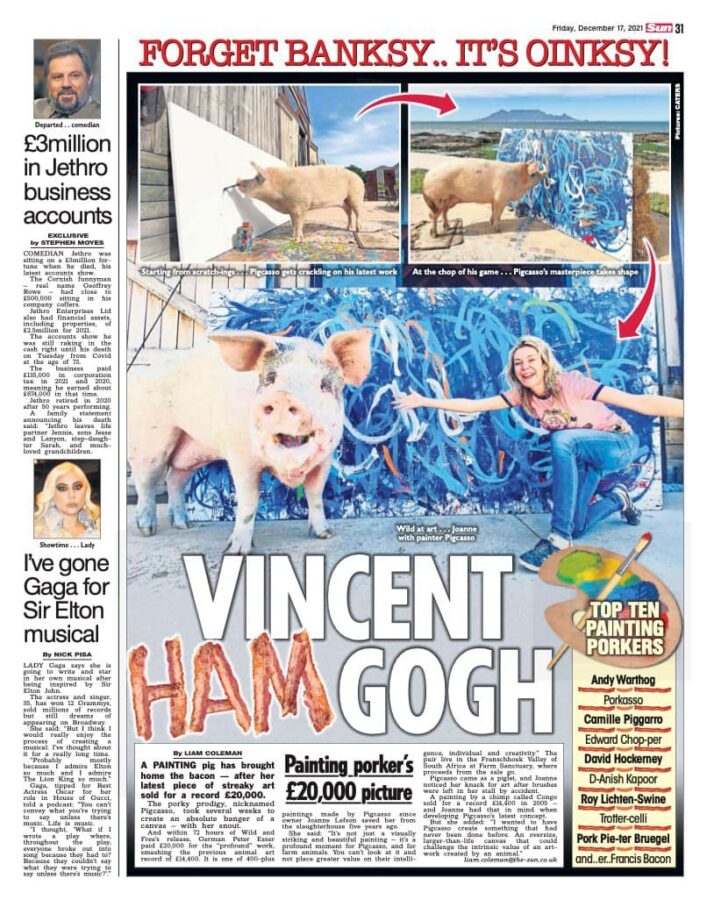 Instead, however, Pigcasso focused on The Sun's brilliant reference to Banksy – "FORGET BANKSY, ITS OINKSY!" Pigcasso said: "Some nice press in the UK today including THE TIMES. 'You cannot look at the works of art and not put a greater value on their intelligence and creativity'. Indeed, Pigcaso! Less meat. More art. Grunt, Pigcasso!"