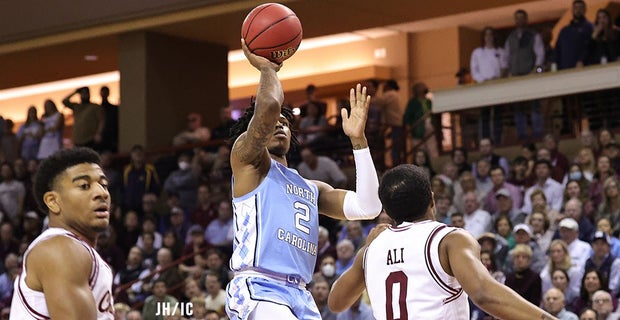 CHARLESTON, SC – No. 18 North Carolina shook off a lackluster start, playing to its position in the bottom half of Tuesday's 94-83 win over College of Charleston at the TD Arena.
A heady home field advantage fueled the Cougars' quick start as Ben Burnham's transitional layup of a live ball turnover gave Charleston (3-1) a 26-15 lead nine minutes into the game. UNC (3-0), behind the play of All-ACC forward Armando Bacot, narrowed that deficit to 42-36 at halftime.
The Tar Heels opened the second half with a 12-4 run and took the first lead at 48-46 on Brady Manek's three-pointer from the top of the key. Caleb Love's lay-up gave UNC a comfortable working margin at 84-74 with 4:06 to play.
Bacot led all scorers by 24 points on 10-for-12 shooting to go along with 12 rebounds. Love scored 18 of his 22 points after halftime, while Kerwin Walton (14 points, 4-for-6 3FG) and Brady Manek (17 points) also reached double digits.
UNC shot 54.2% from the floor (35.0% 3FG) and Charleston held on to 36.4% shooting (11-of-30 3FG). The Tar Heels rebounded their opponent, 49-36, although the Cougars managed to gain a 12-7 advantage on the offensive glass to take a 14-9 lead in second chance points.
tour
College of Charleston head coach Pat Kelsey quoted the late Skip Prosser this preseason when discussing tough game scenarios, saying, "You can't grind your teeth by eating oatmeal." That's equally relevant to this new Carolina team trying to find their way under freshman head coach Hubert Davis.
TD Arena presented the first sold-out road venue for the Tar Heels in nearly 20 months, and the Cougar crowd provided an insane atmosphere. Charleston was pumped full of adrenaline from the tip and took advantage of the crowd to give UNC everything it wanted for nearly 30 minutes. The Tar Heels withstood the fury, kept the score close, then leaned on their ability to pull away late against their mid-sized opponent.
revenue
UNC finished last in the ACC in turnover rate last season, leading to a preseason emphasis on taking care of the ball. Those efforts were evident during the first two games (19 total sales), but Tuesday's performance confirmed that reducing sales remains a work in progress. The Tar Heels made 11 turnovers in the first half alone, many of which were live ball errors that resulted in 15 points on turnovers for the Cougars by halftime.
UNC ended with 17 miscues resulting in 19 points from turnover.
third point guard
With UNC's primary point guards in the starting lineup, the question of who can serve as the third option may have been answered in the first half. RJ Davis took his second offense on an assault on the block with 10:01 to go before halftime. Caleb Love had already picked up his second mistake, so Davis turned to Leaky Black to launch his attack.
Tar Heel's big lineup, made up of Bacot, Manek, Walton, Black and Justin McKoy, beat Charleston 3-0 in the 2:22 with the senior wing at the helm.
State of comment
UNC is 40 minutes 58 seconds behind in its last two wins.
Defensive Mission
While UNC's defensive problems with penetration remain, Black deserves credit for incarcerating Charleston leading scorer John Meeks. The Bucknell transfer averaged 17.7 points in the Cougars' first three games, before being held to seven points on Tuesday's 2-for-14 shooting.
Next one
UNC is heading to Uncasville, Conn this weekend. for the Hall of Fame Tip-Off Tournament. The Tar Heels play No. 6 Purdue (2-0) Saturday (4 p.m./ESPN News).